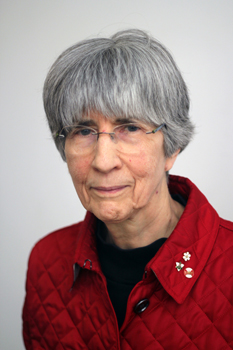 Sandra E. Black, O.C., O.Ont., Hon DSc., MD, FRCP(C), FRSC, FAAN, FAHA, FANA
Primary Investigator
Dr. Black has had continual peer-reviewed funding since 1986. Her research has focused on the cognitive sequelae of stroke and stroke recovery, the differential diagnosis of dementia, and the use of neuroimaging techniques to elucidate brain-behaviour relationships in stroke and dementia.
With funding from the Canadian Institutes of Health Research, the Alzheimer Society of Canada and the Heart & Stroke Foundation, she is currently conducting prospective studies on the utility of quantitative structural and functional imaging in diagnosis and monitoring of mild cognitive impairment, Alzheimer's disease, vascular and other dementias, and on the interactions of Alzheimer's and cerebrovascular disease.
Dr. Black also conducts collaborative research on sensorimotor recovery after stroke using functional magnetic resonance imaging (fMRI) and on praxis, neglect and attentional processes in stroke and dementia. She was the co-principal investigator of a clinical trial on the efficacy of amphetamine with physiotherapy to facilitate motor recovery after stroke. She has over 600 publications and has been actively engaged in treatment trials for stroke, Alzheimer's disease and vascular dementia.
Dr. Black currently serves on the executive committees of the Alzheimer's Association International Society to Advance Alzheimer Research (ISTAART) and the International Society for Vascular Behavioural and Cognitive Disorders (VAS-COG). She was also the co-chair of the Alzheimer's Imaging Consortium (International Congress of AD) from 2009-2011. She is on the steering committee for the Alzheimer's Disease Neuroimaging Consortium and serves on the data publication committee. She serves on the Ontario Stroke Network (the governing body of the Ontario Stroke System) and was a member of the steering committee for the Canadian Stroke Strategy from 2005-2009. She was head of the division of neurology, department of medicine at Sunnybrook from 1995-2006. She has received outstanding mentorship awards from the Institute of Medical Sciences (2001) and the department of medicine (2009), University of Toronto. Dr. Black was the Inaugural Director, Toronto Dementia Research Alliance (2012-20), she has directed Sunnybrook's Hurvitz Brain Sciences Research Program (2006-) and became Scientific Director, Dr. Sandra Black Centre for Brain Resilience and Recovery (2020-), funded for $10M by anonymous donation. Her research career bridges dementia and stroke, using standardized neuroimaging, genetic, clinical and cognitive measures to elucidate brain-behavior relationships, with recent focus on Alzheimer/Small Vessel Disease interactions. Publications: 709 papers (70 invited) (Google HI 120; >67,000 citations). Recognitions include: Dean's UofT Lifetime Achievement Award, U of Waterloo Honorary Doctorate, Lifetime Achievement Award--AAN's Society of Cognitive and Behavioral Neurology (2020), Appointment as Member, Order of Ontario (2012) and Officer, Order of Canada (2015) citing contributions to Alzheimer's disease, stroke and vascular dementia. She was also recently awarded the Margolese National Brain Disorders Prize, Office of Research, Faculty of Medicine, University of British Columbia (2021) which recognizes Canadians who have made outstanding contributions to treatment, amelioration or cure of brain disorders.
BrainLab's multidisciplinary team includes expertise from a broad range of backgrounds including neurology, psychology, radiology, computer science, and many more.

Anoop Ganda: Research Coordinator

Elizabeth Hollingdrake: Research Coordinator

Robin Harry: Research Coordinator

Alicia McNeely: Research Coordinator/Imaging Analyst

Samantha Barbosa: Research Assistant

Emnet Gammada: Research Coordinator

Joanne Lawrence: Nurse Coordinator

Isabel Lam: Research Coordinator

Amanda Silva: Administrative Research Coordinator

Jiali Zhao, PhD: Image Processing Optimization

Sarah Stewart: Research Coordinator

Jodi Edwards, PhD: Post-Doc Fellow

Austyn Roseborough: Junior Imaging Analyst

Samantha Palmer: Research Coordinator

Dr. Alexandra Kim, MD: Research Associate

Marnie Younker: Clinical Coordinator

Gregory Szilagyi: Masters Student

Senny Chan: Research Coordinator/Psychometrist

Heba Ragheb: Research Coordinator

Nazanin Barkhordari: Project Manager

Fiona Muckle: Research Coordinator

Sabrina Pacheco: Operations/Database Manager

Brandy L. Callahan: Post Doctoral Fellow

Lauren Bechard: Masters Student

Manu Sharma: Research Coordinator/Imaging Analyst

Dr. Angela Tomas, MD: Fellow

Dr. Carmen Ojeda-Lopez, MD: Fellow

Areti Apatsidou: Research Coordinator

Shakira Mohammed: Research Coordinator

Ferhana Dhira: Research Coordinator

Hassan Akhavein, PhD: Image Processing Software Developer

Breni Varatharajah: Research Coordinator/Psychometrist

Vito Losito: Program Manager

Natalia Guira: Clinical Coordinator

Dr. Philippe Desmarais, MD: Fellow

Dr. Catherine Miville, MD: Fellow

Dr. Fadi Frankul, MD: Research Coordinator

Valerie Closson: Research Program Coordinator

Kim Roos-Assar, BA, BSc: Research Administrative Coordinator

Anna Lvova: Administrative Research Coordinator

Maryam Niapour, PhD: Research Unit Portfolio Manager

Rashid Rafeek, BSc(Hons.): Research Coordinator

Tess Lin: Communication Strategist

Michelle Lee: Clinical Assistant

Frank Tran: Research Coordinator

Jordana Compagnone: Research Coordinator

Cristin Napier: TDRA Relations Coordinator

Kirstin Walker, MEng: Junior Imaging Analyst

Arman Abedin, CCRP: Research Coordinator

Sadia Sarwar: Database Coordinator

Elahe Marandi, MD: Clinical Research Coordinator

Tiffany Scarcelli, MSc: Communications & Stakeholder Strategist

Winnie Qian: Research Participant Strategist

Jane Ding: Database Coordinator

Emily Di Giovanni: Administrative Research Coordinator

Dr. Jieli Geng, PhD: Visiting Scientist

Melissa Holmes: Database Manager

Pugaliya Puvee: Imaging Analyst

Sabrina Adamo, HBSc: Assistant Brainlab Projects Coordinator

Swathilekha (Swath) Nath: Research Program Coordinator

Dr. Hossam El Shahawy, MD: Research Coordinator

Aqsa kamal: Clinical Research Coordinator

Dr. Mahdi Biparva, PhD: Image Processing Software Develope

Dr. Kie Honjo, MD: Research Associate

Edward Ntiri: Research Software Developer

Miracle Ozzoude, HBSc: Senior Imaging Analyst

David Colelli: Graduate Student

Karan Patel, MD: Research Coordinator

Andrea Ricci: Clinical Administrative Assistant

Helen Pham: Research Contracts Coordinator

Parisa Mojiri, MSc Comp. Eng.: Image Processing Software Developer

Hafsa Rahman: Clinical Research Coordinator

Ingita Patel: Research Coordinator

Alexandra Storace: Research Coordinator/Psychometrist

Melanie Perlin: Clinical Administrative Assistant

Priya Jeyarathnarajah: Research Coordinator

Xiang Ji, MSc: Clinical Research Coordinator

Anna Malakhova: Clinical Research Coordinator

Alix Ginsberg MSc(A): Administrative Research Coordinator

Maurylette Gui: Research Coordinator / Psychometrist

Mackenzie Low: Research Assistant